A Office moves are daunting because it is not just the furniture that needs a move but everything. 
When we say everything, it means the shortest cable connected to the farthest computer system. 
With the pricey equipment and machinery in an office, a single wrong step can lead to a huge financial loss. 
In such a process, finding a responsible office moving company to provide you the office relocation services is the first step to ensure all the others to follow are efficient and less risky. 
The process of planning also includes the logistics schedule and all the checklists that an office mover company must follow to qualify as the perfect office moving company. 
Let us start with a complete guide for your office move. By following these simple yet effective steps, your office move will be organized and cost-effective.
Types of Moving Companies 

Local Moving Companies
These are the companies that work within a specific region, like inter-state or within a radius. 
They usually charge by the hour and do not need a USDOT number. 
They work under state laws and regulations. 
EVOM's office movers are considered local as well because they provide their services in Los Angeles.

Long-Distance Moving Companies
These moves are what their name shows: Exceeding 100 miles. 
They must have a USDOT number from FMCSA (Federal Motor Carrier Safety Administration) and the prices depend on the weight and the distance to your new location. 

Residential Moving Companies
These companies cater to all types of residential housing which can include mansions move as well. 
As long as it is in an area where there is no business interest, it will be deemed as a residential property.

 

Commercial Moving Companies
These moving companies deal with the corporate clientele and include office moves as the primary focus. 
For an office move, this type of moving company is the best choice to go for local or domestic/international if the move is a relocation outside the state. 
Things to Consider Before Hiring The Moving Company for Office Relocation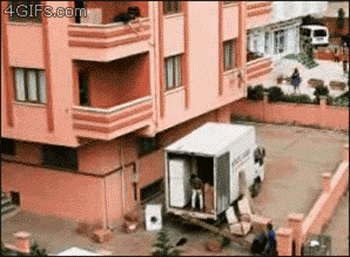 Your planning should start at least 5-6 months before your real move. This is important because the entire planning process will easily consume that period to navigate your office moving towards perfection. 

Check if You Have Moving Coverage
The machinery in your office is fragile. A slight error could lead to thousands of dollars down the drain. 
You have to ensure such an event does not happen and even if it does, you have the coverage on it. 
Most insurances cover a fixed price per pound. Just see if your coverage has that option and if yes, how much are you being covered for. 
This will make your office move safer and your financial sheets accurate. 
This is very important to do as you might be breaking a contract by moving earlier or maybe you have to include the maintenance costs in your office move expense sheet as well. 

Review Your Lease
That small fix in the office rooms or the walls is something you have to know for accurate forecasting of the cash outflows. 
Also, you can verify if you are eligible for your deposit fee. 
Such small lease issues should be sorted out earlier so they do not become issues later during or after the move. 

Budget Line
This budget plan can be every single detail you can think of. From the packing to the personal inventory shopping for the move, it all has to be done in this sheet. 
Once you have successfully estimated the extra costs which might incur, it is now time to devise your ultimate budget policy.
See where you can capitalize by negotiating with the office moving company and where you will have to spend. 
Doing this will give you an overall picture of the entire office move cost. 
This is a really helpful estimation for the finance team and the administration to carry out their tasks in order. 

Final Plan Time
Once you have your main elements ready for the move, it is time to assign roles to the team you have to design. 
This planning team will be responsible for the execution of this office move.
 While some will be within the office, others will be coordinating with the office movers service to ensure there is perfect communication. 
You can decide the levels of management who are to get involved in this office move. 
Is it just the lower management or the middle as well? 
Are there areas where the upper management needs to be around as well? 
You are also to plan the people who will be responsible to arrange the office equipment and other items at the new office and the action plan for that side would need to be developed as well.
All in all, this is the final planning phase where you are almost ready to start your move. 
Steps to Choosing the Right Moving Company 
Now that you have the planning process all set up, it is time to start searching for an office moving company. 
Finding such companies is one of the most tiring tasks because there are just too many out there. 
They all offer exemplary service promises and offer lucrative packages as well. 
However, not all of them hold true to their promises. This is why this step is the most crucial of all. If you succeed in finding the best office moving company, your move will be swift and convenient. 

Company Research
Go very deep into an office moving company's website. 
Check their clients, their reviews, any other forms of feedback, their social media handles, and their licenses. 
Some office moving companies are listed on Business Bureau and Databases for Hire Movers, so verify if the one you are looking for meets that requirement. 
While checking for reviews, do keep in mind that five stars are never all-stars.
Companies that are serving for a long time or to a wide array of customers will have a mixture of reviews. 
Look for those weak points and see which parts did they fail to perform properly. 
When you hire them, you can advise them to work on that point for an effortless office move. 
Take customer complaints as serious and if there is a company with an exciting website and a dazzling appearance overall but lacks the positivity in reviews or feedback, there's the red flag. 
There may be some companies that would be fresh and if you are looking for their service, you have to be open-minded on the reviews section as they would not have many. 
So, check their social media pages and see if they show their office move process in the form of a video or the recent posts of their latest work. 
Remainder: Patience is the key here and this is why we have started our planning almost 5-6 months earlier. 

Experience, Expertise, And Efficiency
The three Es to an efficient office move and how important it is for the office moving companies to meet all three of them. 
Start by checking its time in the office moving business. Not all moving companies are experts in office moving. 
They may have started it as a sideline to their already expanded service but the core may be home moving. 
If such is the case, make sure their office moving reviews are promising as well. 
Check how long it has been doing the only office moving.
Check their gallery or their client corner to see the number of office relocations they have done in the past. 
The reason this is very important to do from your side is that office equipment is totally different from a bed. The disassembling and reassembling, moving it from one place with care and extreme measures in place, all such processes require a certain set of skills that not all movers possess. 
Hence, look at the years and if they are sufficient enough, you can move to the third level of your research. 

Initial Encounter
Although moving companies can promise you all the businesses they have helped so far, it is important to see how they treat you upon your first encounter. 
It can be an in-office visit or an online chat, email, or a call. There are many tools nowadays to reach such companies but the level of empathy, cooperation in their tone, and professional yet friendly attitude matter a lot. 
Note the way the customer representative speaks to you the first time. 
From their professionalism to the way they explore the suitable options for you, this all should be scrutinized from your end. 
The salespersons should be informative and to the point. They should be able to answer all your answers on the first phone call with complete instructions so you don't have to call them later. 
If you are having a customer representative who is not really open or detailed, it should be a red flag right at that point. You should just imagine their response on the day of your move. 

Make Sure Office Movers are the Planners
Once you have done your initial contingency planning, it is time to leave it in the hands of the movers. 
Instead of you telling them what to do, it should be them who must know how to do it. 
They should walk you through the entire process from the initial visit of their office movers at your location to packing and loading them in the truck. 
Their representatives should keep you on board with all the processes and offer reliable communication for you to observe all the processes in sync. 
If you are failing to see the movers initiate or advise your office move's strategy plan, it is time to reconsider for a company that does. 
These professionals are not new to this office move as it is their day to a night job. 
So, if they are not being passionate and telling you about the processes in detail, they may have either a demotivated staff or inefficiency in office moving. 

Quotation Time
Now that the office movers have visited your place and postulated your entire office move process, they should be able to provide you a quote.
As this step is of course the core element of the entire office move, it should not be a standard one.
Having an entire office relocation is not a small project. Moving just the interior takes so much effort and this is shifting an entire setup from one place to another. 
So, the office movers should be able to provide you with a cost-effective quote. 
This quote can be based on the amount of machinery involved or the equipment that is abundant enough to be considered for a discount. 
There are so many factors where the office movers can help you with an amazing package to save some money and make the entire process stress-free. 
If the need arises, get someone from the market, maybe a public relations manager to compare the rates with the other office movers. 
Once you get a quote where you are getting a real discount, it is time to accept that quotation and move ahead. 
Do remember, if there is a company that tells you a flat rate, be mindful of the market prices once again and act accordingly. In moments like these, flat rates are never better than custom quotes. 

Review the Costs for the Last Time
Once you get a quote list, go through it in detail, ensuring you understand all the charges listed on there. 
Not all the charges should make sense, and if they don't; let the office movers know. 
Also, ensure you are not paying any unnecessary fees or getting charged a hidden fee. The entire process of the quote should be transparent and economical. 
See the add-on charges and how have they mentioned them. Check the packing supplies charge, heavier item supercharge, and the disassembly or the reassembly. 
If there isn't already, do tell them to add the cancellation or postponement charges as well. 
This can be really important for you as there may be a policy which can later cost you more money than you can imagine. 
Understand the pricing policy from the company: Is it footage per square, by volume, or by the number of hours? You will not be getting just a single quote as you will have some backup companies to fall onto if there is a problem with the current one, so make sure you compare all the quotations from these companies and reach the best decision based on the value they all offer. 
Final Thoughts
Now, it is time to move ahead and just let the professionals do your job once you have selected your final office moving company.
There will still be ample time for you to decide your moving strategies if there is something that needs to be added or removed from the list. 
You should be communicating all these updates with your office moving company to make sure they are implementing the changes at proper times. 
By following the guide above, your office move will be a smooth transition and your employees would not notice any changes or distracting settings, leaving them productive and happy with their new setting. 
EVOM has been serving the Los Angeles area for years now. We have a list of the premium office moving companies in Los Angeles that equip a highly-trained staff, taking great care of your items, and handling things like their own during the packing process. 
So, are you ready to move your office to Los Angeles? Sign up now for free and scroll through all the options of movers for your needs. You can reach us at our website (https://evom.io/) or email us your query at support@evom.io. And also, if you are a mover and want to join the team, you can email us at info@evom.io. Moving has never been this easy, affordable and convenient. Visit Evom now!